Retirement & Estate Planning in Challenging Times
Date:
Tuesday, September 19, 2023
Location:
Aster Event Center - Hyatt Place Trexlertown
Speaker:
Steven Parrish, JD, RICP®, ChFC®, CLU®, RHU®, AEP®
Registered for this event? Login now to view additional event details.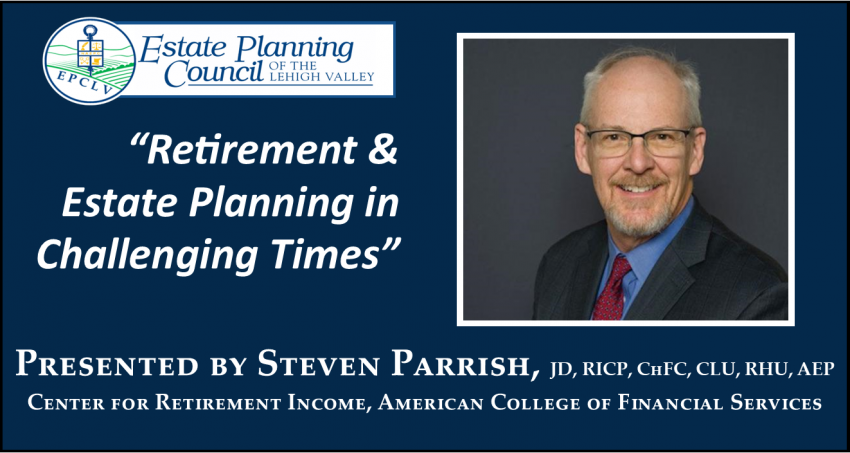 Please join us for a presentation by Steven Parrish, Co-Director of the Center for Retirement Income, American College of Financial Services on September 19th, as we focus on "Retirement and Estate Planning in Challenging Times."
There has been a perfect storm of new and pending tax law, a changed economy, and the graying of America. This presentation looks at how these changes affect retirement and estate planning. It will focus on incorporating both legal and economic challenges into integrated planning for business owners, affluent and HNW clients.
2 CE Credits are approved.
Registration 1:30-2:00
Presentation 2:00 - 4:15
Social Networking 4:15-5:00
Steve Parrish is the Co-Director of the Center for Retirement Income at The American College of Financial Services, where he also serves as an Adjunct Professor of Advanced Planning. With over 45 years' experience as an attorney and financial planner, Parrish frequently addresses the financial challenges of individuals, business owners, and executives nationwide.
Parrish is an expert on retirement, estate, and business owner succession planning. He is a recognized industry authority, spokesperson and author serving as an ongoing contributor for both Forbes.com and Kiplinger.com and is a contributing author to the 2023 e-textbook Retirement Plans and Retirement Planning.
Parrish has served as an expert source for such prominent media outlets as InvestmentNews, Money.com, CNBC, MarketWatch, Wall Street Journal, USN&WR, HR Magazine, and the Retirement Income Journal. He is also an Associate Editor of the Journal of Financial Services Professionals. In addition, he is a sought-after speaker with bar associations, estate planning councils, and AICPA meetings. He has addressed such financial service organizations as MDRT, AICPA, Finseca, NAIFA, ABA, INC 5000, and Society of Financial Service Professionals. Parrish also addresses numerous business organizations nationwide and has served as an expert witness.
Parrish was employed at The Principal Financial Group from February 1997 until June 2015 when he began his academic career with The American College and Drake University. Prior to that, he served as vice president, marketing services for Amerus Life Insurance Company. He began his career as an attorney and advanced sales director in Minneapolis. He became a financial planner in Atlanta, where he was a co-owner of Walker Parrish Financial Group. Steve received his B.A., Cum Laude, from Saint Olaf College and his Juris Doctor degree from the William Mitchell College of Law.