Important Issues in Modern Trust Design
Date:
Wednesday, September 21, 2022
Location:
Saucon Valley C.C.
Speaker:
Lawrence J. Macklin, AEP
Registered for this event? Login now to view additional event details.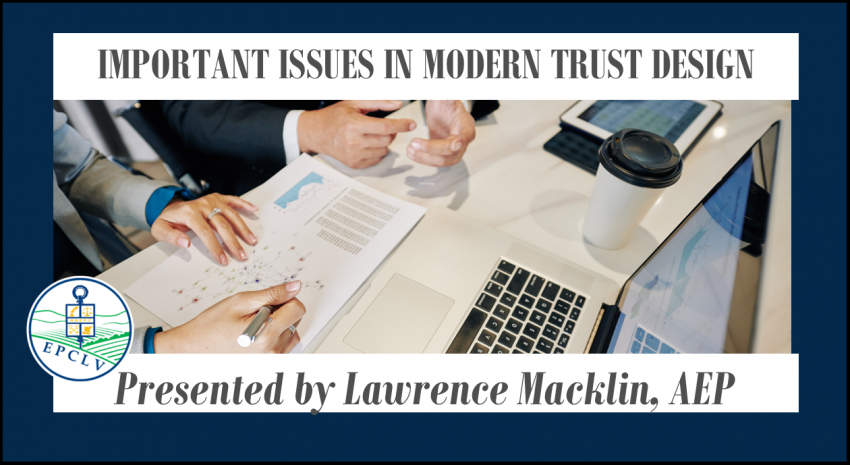 Please join us on September 21st at the Saucon Valley Country Club for a presentation on "Important Issues in Modern Trust Design" by Lawrence J. Macklin, AEP who will be presenting virtually to our in-person gathering.
This informative presentation will explain how to build flexibility into trust agreements including dynasty trusts and irrevocable life insurance trusts (e.g., trustee appointment provisions, powers of appointment) that may be controlling millions of dollars for decades or even several generations.
As the rule book that will govern the assets, it is critical that the trust agreements be flexible enough to address the thousands of unforeseeable events that will occur with respect to the assets, the beneficiaries, and the word at large. The presentation also will highlight many provisions that should be included in most trusts, but typically are not, including important but overlooked clauses, approaches to structuring trust terms and the interplay with trustees (distribution provisions, trustee/fiduciary structures), and trustee guidance (guidelines and whether to consider or ignore other income/resources).
Two continuing education credits are pending approval for CLE, CFP, Pennsylvania Insurance, CPA, CTFA and PACE.
Registration is free for EPCLV members and future members are encouraged to attend.