EPCLV Annual Meeting & Creative Charitable Planning with Noncash Assets
Date:
Wednesday, May 17, 2023
Location:
NEW LOCATION - ArtsQuest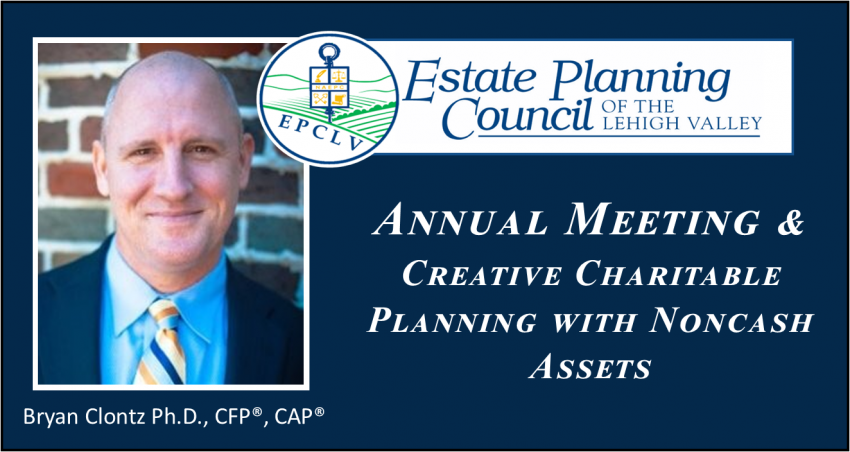 Please join us on May 17th at ArtsQuest for

EPCLV Annual Meeting & Creative Charitable Planning with Noncash Assets"

by Bryan Clontz Ph.D., CFP, CAP.
1:00-1:30 Registration
1:30-2:00 Annual Meeting
2:00-4:15 Presentation
4:15-5:00 Networking & Cocktails
Two continuing education credits are pending approval for CLE, CFP, Pennsylvania Insurance, CPA, CTFA and PACE.
Bryan Clontz is the founder and president of Charitable Solutions, LLC, specializing in non-cash asset receipt and liquidation, gift annuity reinsurance brokerage, actuarial gift annuity risk management consulting, emergency assistance funds, as well as virtual currency and life insurance appraisals/audits. He also serves as Senior Partner of Ekstrom Alley Clontz & Associates – a community foundation consulting firm in Tuscon, AZ.
He has given more than 2,000 presentations on charitable gift planning and community foundation topics (including the National Committee on Planned Giving Conferences, American Council on Gift Annuities and more than 50 speeches at national community foundation conferences – COF, ADNET, FAOG); been published in an international insurance textbook; and authored a book called Charitable Gifts of Noncash Assets, a planned giving manual entitled Just Add Water, and a dozen articles in financial services and planned giving journals. Bryan chaired the inaugural statewide Leave a Legacy Georgia! Campaign involving more than 400 charities. He has served as an expert witness on charitable gift annuity default and reinsurance involving an Arizona charitable bankruptcy and as a donor advised fund expert witness for a Virginia bankruptcy. He is the co-inventor of a proprietary CGA risk management process (LIRMAS- Life Income Risk Management Analytic Suite) based on an actuarial study he co-authored for the Society of Actuaries on CGA Mortality.
Registration is free for EPCLV members and future members are encouraged to attend.
Thank you to our Gold Sponsor and Host: