Life Settlement and Policy Valuation Solutions for Estate and Tax Planning Professionals
Date:
Thursday, November 10, 2022
Location:
ArtsQuest Center at Steelstacks, Bethlehem, PA
Speaker:
Jon B.. Mendelsohn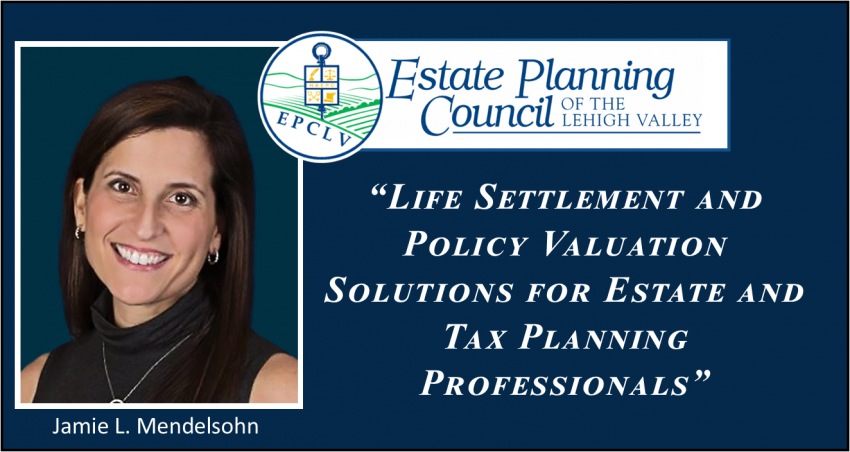 We are excited to announce our November program, "Life Settlement and Policy Valuation Solutions for Estate and Tax Planning Professionals: Creating Liquidity to Fund Long-term Care, Business, and Retirement Planning Needs" with Jon B. Mendelsohn presenting. More information is coming, as we await approval of CE credits and finalize a venue. Mark your calendars and we look forward to seeing you on November 10th!
This presentation will lead to a multidisciplinary conversation providing valuable information for LL.M.s (tax), CPAs, CFPs, fee-only advisors, and all estate and financial planning professionals that are passionate about protecting the best interests of their clients. We will address the tax ramifications of a life settlement, how to identify retirement age clients who plan to lapse or surrender their existing life insurance policies, and an alternative valuation methodology for policy transfer and sale. We will also demonstrate how additional life settlement value may be available to help clients with retirement, long-term care, medical expenses, bankruptcy, divorce, and other financial planning needs. The
Problem: Retirement-age clients are lapsing and surrendering their existing life insurance policies at an alarming rate and leaving money on the table because they lack the proper representation from the financial professionals that normally help to protect them. It doesn't have to be this way if all members of the financial planning community understand what role they can play in their practice area to help clients explore all their options. We understand that life settlements are not the core business of most estate planning council members and that most planners feel unqualified to approach this subject with clients. Therefore, we will walk you through a simple life settlement discovery process that will show you how to talk with your clients about life settlements, when to ask for an appraisal, and what to do next.
According to a Wharton School Study, "almost 85% of term policies fail to pay a death claim; nearly 88% of universal life policies ultimately do not terminate with a death benefit claim". Many of these low cash value policies were forfeited back to the insurance company for their cash surrender value without anyone in the planning community asking for an appraisal to uncover any additional life settlement value. It's important to understand right up front that you don't need to be a life insurance expert to help your clients uncover life settlement value and protect the best interests of these vulnerable senior clients.
Learning objectives - At the end of this presentation attendees from all practice areas will:
• Recognize an alternative life insurance valuation methodology to use when Form 712 values seem unrealistic for universal life and convertible term insurance policies
• Understand the critical role that life insurance appraisals play when their client is considering any material change in an existing life insurance policy.
• Discover, by practice area, the advantages that life settlements can provide to their clients.
• Be able to include a basic life settlement conversation with their clients to assure that their best interests are served if they are considering a policy lapse, surrender, or transfer.
• Identify life settlement best practices for their practice area that helps retirement age clients maximize the value of their life insurance to help them augment their financial planning goals.
• Comprehend the tax ramifications of a life settlement.
As a former educator, Jon uses his passion for learning to inspire the entire team to expand their knowledge and ensure they are experts in everything related to Ashar's core business – life settlements, policy valuations, and longevity services. But he also has a keen understanding that lessons are found in a variety of places – even in the form of Tik Tok life hacks.
Since co-founding Ashar Group in 2003, Jon has been an influential member of the industry, serving as an advocate for best practices and transparency. Through tireless collaboration with members of the insurance and financial services, legal, and trust communities, he has developed unique and proprietary processes that save advisors valuable time and manage client expectations in a responsible manner.
Jon earned two bachelor's and a master's degree from the University of Florida (go Gators!). He participated in the Strategic Coach program for 6 years to continue to develop both personally and professionally and is a member of numerous industry organizations and boards. He works, plays, and lives in the Central Florida area and enjoys spending quality time with his parents, siblings, wife and two daughters.