Life Settlement and Policy Valuation Solutions for Estate and Tax Planning Professionals
Date:
Thursday, November 10, 2022
Location:
ArtsQuest Center at Steelstacks, Bethlehem, PA
Speaker:
Jamie L. Mendelsohn
Registered for this event? Login now to view additional event details.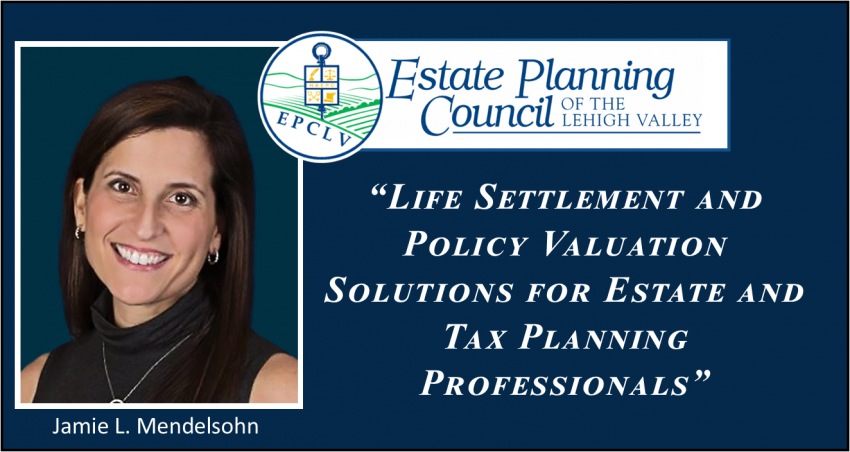 We are excited to announce our November program, "Life Settlement and Policy Valuation Solutions for Estate and Tax Planning Professionals: Creating Liquidity to Fund Long-term Care, Business, and Retirement Planning Needs" with Jamie B. Mendelsohn, Executive VP of the Ashar Group.
Registration 1:30-2:00
Presentation 2:00 - 4:15
Social Networking 4:15-5:00
Two continuing education credits are pending for CLE, CFP, Pennsylvania Insurance, CPA, CTFA and PACE.
Thank you to our host and Gold Sponsor, ArtsQuest.
This presentation will lead to a multidisciplinary conversation providing valuable information for LL.M.s (tax), CPAs, CFPs, fee-only advisors, and all estate and financial planning professionals that are passionate about protecting the best interests of their clients. We will address the tax ramifications of a life settlement, how to identify retirement age clients who plan to lapse or surrender their existing life insurance policies, and an alternative valuation methodology for policy transfer and sale. We will also demonstrate how additional life settlement value may be available to help clients with retirement, long-term care, medical expenses, bankruptcy, divorce, and other financial planning needs.
Retirement-age clients are lapsing and surrendering their existing life insurance policies at an alarming rate and leaving money on the table because they lack the proper representation from the financial professionals that normally help to protect them. It doesn't have to be this way if all members of the financial planning community understand what role they can play in their practice area to help clients explore all their options. We understand that life settlements are not the core business of most estate planning council members and that most planners feel unqualified to approach this subject with clients. Therefore, we will walk you through a simple life settlement discovery process that will show you how to talk with your clients about life settlements, when to ask for an appraisal, and what to do next.
According to a Wharton School Study, "almost 85% of term policies fail to pay a death claim; nearly 88% of universal life policies ultimately do not terminate with a death benefit claim". Many of these low cash value policies were forfeited back to the insurance company for their cash surrender value without anyone in the planning community asking for an appraisal to uncover any additional life settlement value. It's important to understand right up front that you don't need to be a life insurance expert to help your clients uncover life settlement value and protect the best interests of these vulnerable senior clients.
Learning objectives - At the end of this presentation attendees from all practice areas will:
• Recognize an alternative life insurance valuation methodology to use when Form 712 values seem unrealistic for universal life and convertible term insurance policies
• Understand the critical role that life insurance appraisals play when their client is considering any material change in an existing life insurance policy.
• Discover, by practice area, the advantages that life settlements can provide to their clients.
• Be able to include a basic life settlement conversation with their clients to assure that their best interests are served if they are considering a policy lapse, surrender, or transfer.
• Identify life settlement best practices for their practice area that helps retirement-age clients maximize the value of their life insurance to help them augment their financial planning goals.
• Comprehend the tax ramifications of a life settlement.
Jamie L. Mendelsohn is the Executive Vice President of Ashar Group - a family-owned business with a national footprint. Since 2003, they have focused solely on the life settlement and life insurance policy valuation market. Ashar Group partners with financial professionals, fiduciaries, broker-dealers, and institutions serving as an independent advanced planning resource in the secondary market for life insurance.
Throughout her tenure at Ashar Group, Jamie has earned the reputation of a determined client advocate. She is the go-to resource for advanced planners and fiduciaries who integrate life insurance policy valuation into their planning process. If the decision is made to sell the policy as a life settlement, she negotiates with licensed buyers on behalf of their clients. Jamie speaks nationally at financial services conferences, and estate planning councils, and provides continuing education for both financial and insurance professionals.
Jamie earned her bachelor's and master's degrees from the University of Florida, where she was a member of the Alpha Delta Pi sorority. She is a proud member of Women in Insurance and Financial Services. Jamie dedicates much of her time and energy to the Crohn's and Colitis Foundation where she mentors patients and families while serving as the President of the Central FL/North FL Chapter. Jamie resides in Orlando, FL, and enjoys reading, traveling, and spending time with family and friends.