EPCLV Annual Membership Meeting with Martin Shenkman Presenting
Date:
Wednesday, May 25, 2022
Location:
Saucon Valley Country Club
Registered for this event? Login now to view additional event details.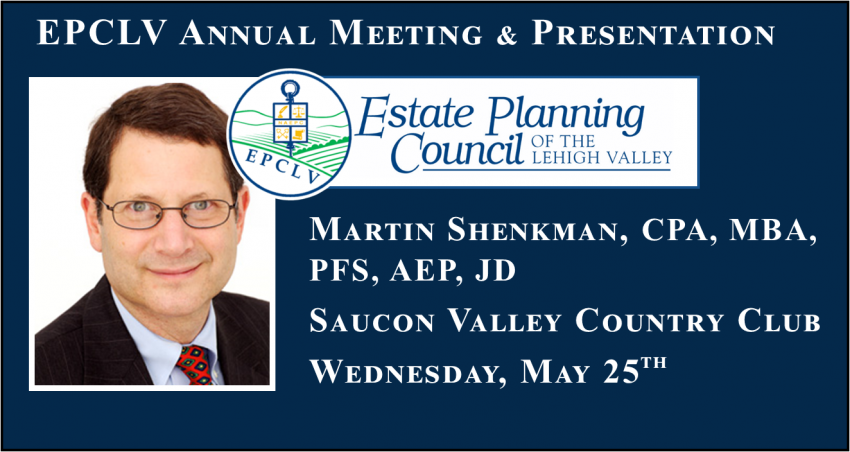 Please join us on May 25th for the EPCLV Annual Meeting with Martin Shenkman CPA, MBA, PFS, AEP (distinguished), JD, presenting.
"Smaldino: Recent Tax Court Case Has Important Lessons On How To Do Estate Planning Right!"
&
"Levine: Planning Roadmap to Create Split-Dollar Arrangement to Withstand Challenges"
Program Description: The recent Smaldino case could be viewed as a bad fact case but it really is a checklist of many steps that should be handled with care in common estate planning transactions. The presentation will review the Smaldino case with the objective of providing many practical steps practitioners in all disciplines should be aware of when planning, funding and administering common irrevocable trusts like life insurance trusts, SLATs and more. The Levine case was a recent taxpayer victory in the split-dollar area. What lessons can be gleaned from Levine as to how practitioners can plan and structure not only economic benefit split dollar plans, but other insurance plans and estate planning in general. The Levine case will be discussed from a lens of creating a roadmap for successful planning. Finally, a myriad of spousal lifetime access trusts ("SLATs") were created during the 2020-2021 planning turmoil. Many of these SLATs function as robust ILITs and serve other planning purposes. How can SLATs be administered to enhance the potential for success for clients? In particular, this discussion will focus on many ways a variety of different insurance planning considerations can be used to backstop SLATs helping not only clients but the practitioners who were involved as well.
1:00-1:30 Registration
1:30-2:00 Annual Meeting
2:00-4:15 Presentation
4:15-5:00 Networking & Cocktails
Two continuing education credits are pending approval for CLE, CFP, Pennsylvania Insurance, CPA, CTFA and PACE.
Registration Deadline: May 16th
About the Presenter:
Martin M. Shenkman, CPA, MBA, PFS, AEP (distinguished), JD, is an attorney in private practice in Fort Lee, New Jersey, and New York City. His practice concentrates on estate and tax planning, planning for closely-held businesses, estate administration.
A widely quoted expert on tax matters, Mr. Shenkman is a regular source for numerous financial and business publications, including The Wall Street Journal, Fortune, Money, The New York Times, and others. He has appeared as a tax expert on numerous public and cable television shows including The Today Show, CNN, NBC Evening News, CNBC, MSNBC, CNN-FN, and others. He is a frequent guest on radio talk shows throughout the country and has a regular weekly radio show on Money Matters Financial Network.
Mr. Shenkman is a prolific author, having published 42 books and more than 1,000 articles.
Mr. Shenkman is an editorial board member of CCH (Wolter's Kluwer) Co-Chair of Professional Advisory Board, CPA Journal, and the Matrimonial Strategist. He has previously served on the editorial board of many other tax, estate and real estate publications.
Mr. Shenkman has received numerous awards, including: The 1994 Probate and Property Excellence in Writing Award; The Alfred C. Clapp Award presented in 2007 by the New Jersey Bar Association and the Institute for Continuing Legal Education for excellence in continuing legal education; Worth Magazine's Top 100 Attorneys (2008); CPA Magazine Top 50 IRS Tax Practitioners (April/May 2008); The "Editors Choice Award" in 2008 from Practical Estate Planning Magazine for his article "Estate Planning for Clients with Parkinson's;" The 2008 "The Best Articles Published by the ABA" award for his article "Integrating Religious Considerations into Estate and Real Estate Planning;" New Jersey Super Lawyers, (2010-16); 2012 recipient of the AICPA Sidney Kess Award for Excellence in Continuing Education for CPAs; 2013 Accredited Estate Planners (Distinguished) award from the National Association of Estate Planning Counsels; Financial Planning Magazine 2012 Pro-Bono Financial Planner of the Year for efforts on behalf of those living with chronic illness and disability;
Mr. Shenkman's book, Estate Planning for People with a Chronic Condition or Disability, was nominated for the 2009 Foreword Magazine Book of the Year Award. He was named the lead of Investment Adviser Magazine's "all-star lineup of tax experts" on its April 2013 cover. On June 2015, he delivered the Hess Memorial Lecture for the New York City Bar Association.
Mr. Shenkman is active in many charitable and community causes and organizations. He founded ChronicIllnessPlanning.org which educates professional advisers on planning for clients with chronic illness and disability and which has been the subject of more than a score of articles. He has written books for the Michael J. Fox Foundation for Parkinson's Research, the National Multiple Sclerosis Society and the COPD Foundation. He has also presented more than 60 lectures around the country on this topic for professional organizations, charities and others. More than 50 of the articles he has published have addressed planning for those facing the challenges of chronic illness and disability. Additionally, he is a member of the American Brain Foundation Board, Strategic Planning Committee, and Investment Committee.
Mr. Shenkman received his Bachelor of Science degree from Wharton School, with a concentration in accounting and economics. He received a Master's degree in Business Administration from the University of Michigan, with a concentration in tax and finance. He received his law degree from Fordham University School of Law and is admitted to the bar in New York, New Jersey, and Washington, D.C. He is a Certified Public Accountant in New Jersey, Michigan and New York. He is a registered Investment Adviser in New York and New Jersey.
Related Document(s):