Annual Meeting & "Recent Tax Developments for Estate Planners"
Date:
Thursday, May 13, 2021
Speaker:
Sam Donaldson, Esq.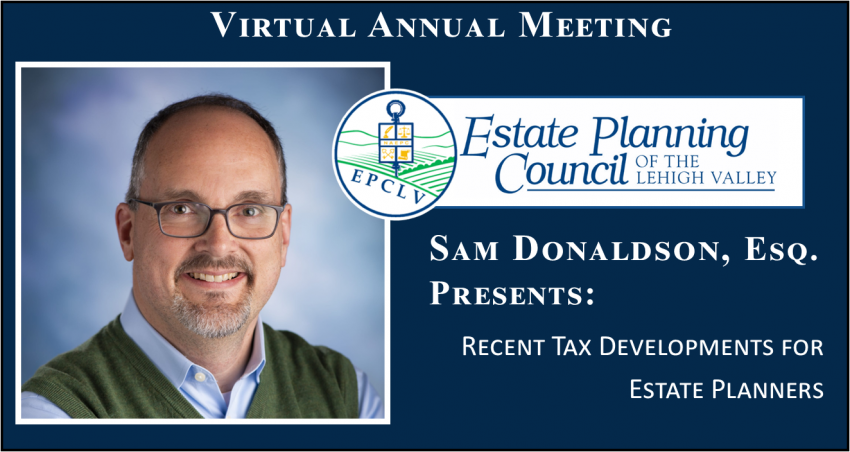 The Annual Meeting will be held from 1:30 until 2:00 followed by a presentation on "Recent Tax Developments for Estate Planners" by Sam Donaldson, Esq,,
The presentation providing C.E. & C.L.E. will look at some of the big cases, rulings, regulations, and legislation from the past twelve months. Some of the areas he will be addressing are:
• Estate Planning Implications of the SECURE Act
• Anti-Clawback Regulations
• State Income Taxation of Nonresident Trusts (Kaestner)
• Planning Strategies in Light of the $10,000 Cap on Deducting State and Local Taxes
• Additional Guidance and Planning with the Qualified Business Income Deduction
• Tax-Affecting in Valuation of Pass-Through Entity Interests (Jones)
Our Speaker: Samuel A. Donaldson, Esq.
Education

LL.M., in Taxation University of Florida College of Law
J.D. Magna Cum Laude, University of Arizona College of Law
B.A. with Highest Honors, Oregon State University
Specializations

Federal Taxation and Estate Planning
Biography

Prior to joining GSU Law in 2012, Professor Donaldson was on the faculty at the University of Washington School of Law in Seattle for 13 years. During his tenure at the University of Washington, he was a five-time recipient of the Philip A. Trautman Professor of the Year award from the School of Law's Student Bar Association. Professor Donaldson served for two years as Associate Dean for Academic Administration and for six years as the Director of the law school's Graduate Program in Taxation.

Professor Donaldson teaches a number of tax and estate planning courses, as well as courses in the areas of property, commercial law and professional responsibility. He is a nationally recognized speaker on federal taxation and estate planning at professional conferences and continuing education seminars.

Professor Donaldson is an Academic Fellow of the American College of Trust and Estate Counsel (ACTEC) and a member of the Bar in Washington, Oregon, and Arizona. Among his scholarly works, he is a co-author of the popular West casebook, Federal Income Tax: A Contemporary Approach, and a co-author of the Price on Contemporary Estate Planning treatise published by Wolters Kluwer.

Professor Donaldson has served as the Harry R. Horrow Visiting Professor of International Law at Northwestern University and a Visiting Assistant Professor at the University of Florida Levin College of Law.

An amateur crossword constructor, Professor Donaldson's puzzles have been published in The New York Times, The Washington Post, The Wall Street Journal, and other outlets.