Annual Meeting & Steven Siegel presents "Is Estate Planning Dead"
Date:
Tuesday, September 22, 2020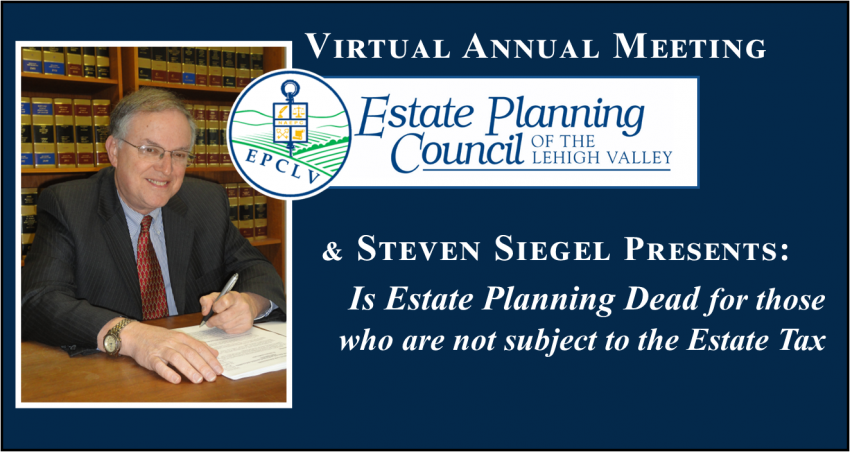 EPCLV Annual Meeting & Steven Siegel Presents: "Is Estate Planning Dead"
Program Description:
The high transfer tax exclusions would seem to make sophisticated estate planning unnecessary for many clients whose estates will not exceed the taxation thresholds. But there are many other considerations that should go into an estate plan including portability, income tax considerations and asset protection concerns that make "simple" planning a risk for many clients. Life insurance, retirement plans, existing estate plans, gifting and many other issues may need to be considered differently when advising clients in this new world of estate planning.
The newly enacted SECURE Act and CARES Act, along with the combination of the sunset of the 2017 Act after 2025 and possible "political risk" before then makes advising clients in 2020 of critical importance.
Learning Objectives:
1. Obtain a comprehensive understanding of necessary planning to be done by clients with net worth below the current federal transfer tax threshold.

2. Identify opportunities in the areas of income, retirement, gift and estate planning techniques which may benefit clients with estates that may be at risk of tax changes in light of new laws, political uncertainty and the impending sunset of the current law.
Speaker:
Steven G. Siegel Steve Siegel is president of The Siegel Group, a Morristown, New Jersey-based national consulting firm specializing in tax consulting, estate planning and advising family business owners and entrepreneurs. He holds a B.S. from Georgetown University, a J.D. from Harvard Law School, and an LL.M. in Taxation from New York University.

Mr. Siegel is the author of several books, including the Grantor Trust Answer Book published by Wolters Kluwer, and is a nationally-recognized writer and speaker who has lectured extensively throughout the United States on tax, business and estate planning topics. Mr. Siegel has served as an adjunct professor of law at Seton Hall and Rutgers University law schools.
Related Document(s):